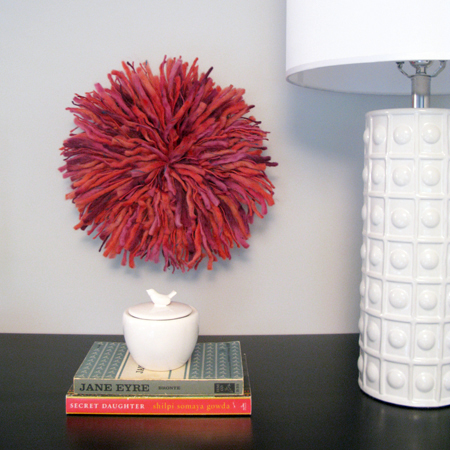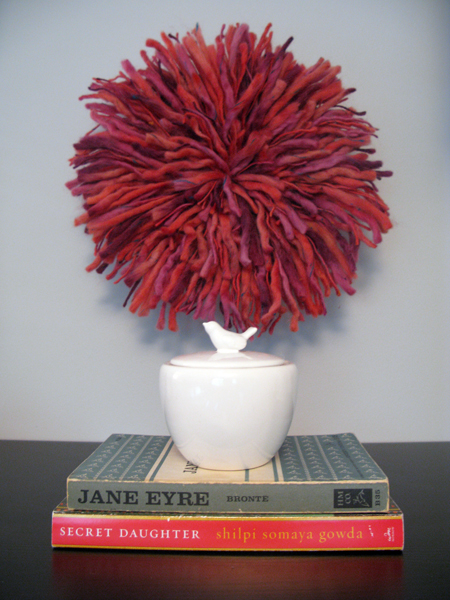 There are some benefits to having never seen a Cameroon headdress, or Juju Hat, up close and personal. If I had, then I may have been a bit more daunted to try and DIY this! For those of you obsessed with perfection, please squint when looking at the above pictures. ; ) Actually, I suggest everyone try that, since they do look pretty darn sweet in a somewhat blurry state.
When I was looking through my pictures of JuJu hats, they all seemed so textural, almost wooly. So, when I went on a field trip to Michael's to see what kind of feathers they had to work with, I quickly changed course and headed over to the yarn section. (Partly because the price of feathers adds up very quickly, and partly because the lady warned me about just how long it takes to glue on feather upon feather upon… you get the idea. I'm all about the cheap and easy when it comes to projects that may or may not actually work out!) I do not knit, so I had zero idea what I'd find, if anything. I was surprised to find such beautiful colors woven together, and all the thickness and texture I was looking for! And, a new found desire to make myself a scarf for next winter… if I start now I may just have it done in time!
I'm working on a tutorial in case anyone else wants to make one of these wooly wall hangings. So check back tomorrow for that!
PS – Book club ladies, as you can see, I'm ready to go for the next two months! Jane Eyre is from my mom's college days, so I'm hoping to make use of her notes! ; )
Photo Credits: Rosa Pearson Design