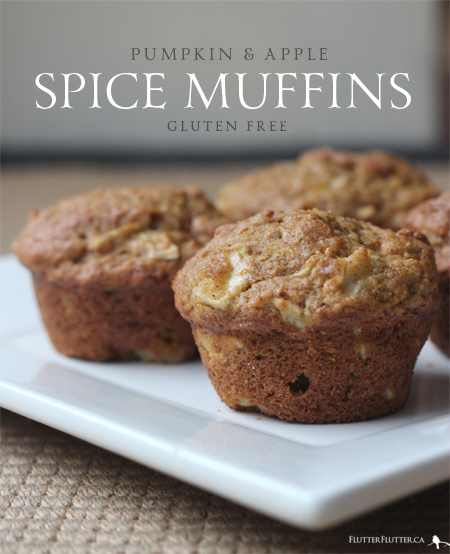 Sorry for the silence around here last week! Between the teachers strike and sick children I found myself very busy… and then I ended up in the ER, and well, there was not much energy left after that. All is well now, and Spring Break is here… so, there will be some pajama days in the future!
PUMPKIN & APPLE SPICE MUFFINS [GLUTEN FREE]

INGREDIENTS:
1 2/3 cups gluten free all purpose flour
3/4 teaspoon xanthun gum
2 tablespoon ground flax seeds
1 cup sugar
1 tablespoon pumpkin pie spice**
1 teaspoon baking soda
1/4 teaspoon salt
1/4 teaspoon baking powder
1 cup canned pumpkin
1/2 cup butter or margarine, melted
2 large eggs, lightly beaten
1 apple, peeled and finely chopped
Topping:
1 teaspoon pumpkin pie spice**
3 tablespoons sugar
DIRECTIONS:
Preheat oven to 350°F.
Combine first 8 ingredients in a large bowl; make a well in center of mixture. Combine pumpkin, butter, and eggs in another bowl and add to dry ingredients, stirring just until moistened. Fold in chopped apple and spoon into greased muffin pans, filling two-thirds full.
Combine 3 tablespoons of sugar and 1 teaspoon of pumpkin pie spice; sprinkle evenly over muffins.
Bake for 20 minutes or until golden brown. Remove from pans immediately, and cool on wire racks.
**Tip: No pumpkin pie spice? Substitute the following: 1/2 tsp cinnamon, 1/4 tsp ginger, 1/8 tsp nutmeg & 1/8 tsp cloves. Mix together for the equivalent of 1 tablespoon pumpkin pie spice.
Adapted from: Mel's Kitchen (via Delightful Bitefuls)