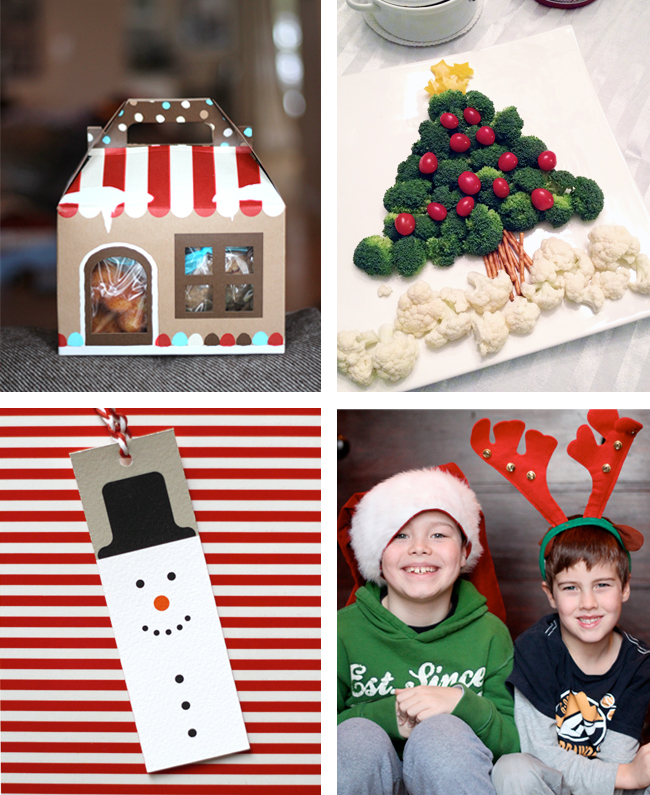 The pictures above show some of the moments that have been happening over here lately:
This cute container held yummy treats from The Last Crumb from West Elm Market. How cute is that sweet little gingerbread house!
What did party hosts do before Pinterest inspiration!? That's where Jamie saw this Christmas tree veggie tray idea!
I've been emailing out Printable Holiday Gift Tags this week… thanks for all of your orders!
This is how the boys looked when they saw Santa this year. I picked them up early from school on the day of the Newtown tragedy, let them choose what they wanted to wear, and spent the afternoon enjoying them. Dressing up just didn't feel important this year. I'm so happy that today is the start of two weeks off from school!
I want to take a moment to wish you all a wonderful Christmas season. I hope that your holidays are full of love and laughter with your family and friends. I also want to say a big thank you for visiting me here over the last year. I appreciate your comments and support so much!
PS – I'm over at Recreated sharing one of our family's favourite Christmas traditions today, in case you're curious.