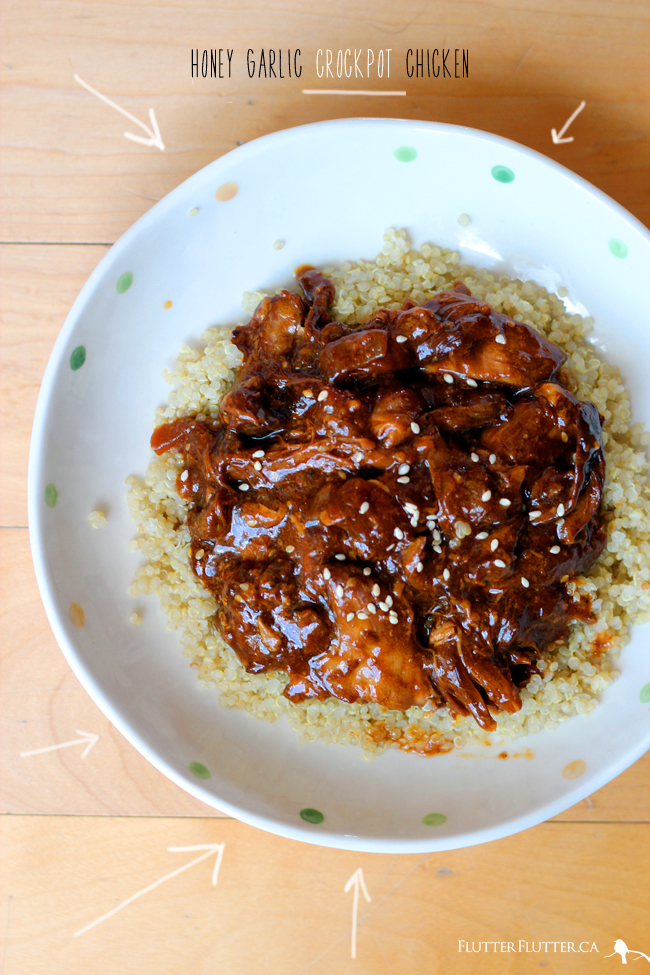 This had to be shared. It's just that good. It's like pulled pork and ribs all rolled into one… only it's chicken. And it only take a few minutes to throw together. You're welcome.
Honey Garlic Crock Pot Chicken Ingredients
2 pound boneless, skinless chicken thighs
salt and pepper
3/4 cup honey
1 tbsp soy sauce (I used Bragg's to make it gluten free)
2 diced onions, chopped into large chunks
1/4 cup ketchup
2 tablespoons olive oil
3 cloves garlic, minced
1 tbsp tapioca flour or cornstarch mixed into 4 tbsp of water
sesame seeds
Instructions
Sprinkle both sides of chicken with salt and pepper, and place in crock pot.
Combine honey, soy sauce, onion, ketchup, oil, and garlic. Pour mixture over chicken. Cook on low for 4-6 hours.
Remove chicken from crock pot, but reserve sauce in the pot. Dissolve tapioca flour or cornstarch in 4 tablespoons of water and pour into crock pot. Stir to combine with sauce. Cook sauce on high for until it thickens slightly.
Add the chicken back into sauce and mix to coat.
Serve chicken over quinoa or cooked rice and spoon on top. Sprinkle with sesame seeds. Enjoy!
Photo by Rosa Pearson. Recipe adapted from Kitchen Meets Girl.