As you can imagine, we crammed a lot of shopping into our five day girls trip to Portland! I thought that I'd compile a visual list of all our top stores. I hope it helps you if you're planning a trip to Portland sometime soon! Here we go!
DOWNTOWN/WEST END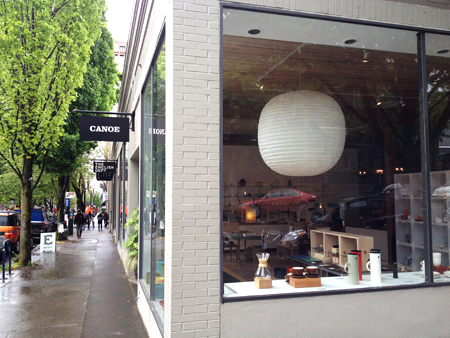 Canoe, (1136 SW Alder) is full of modern, well-designed products for home, work and life. And such friendly people too!
Alder & Co. (537 SW 12th) is kitty corner to Canoe, and another fabulous find. Filled with wonderfully curated beautiful items for everyday use. I fell in love with their amazing felted rugs!
Crafty Wonderland (808 SW 10th) carries handmade goods from over 160 Portland area artists! I bought two amazing tops while shopping here, and discovered Jolby, local designers, when I spotted their fun mural (above) behind the cash desk.
Powell's Books is a great place to give yourself a couple hours on a rainy day. You'll need that long, at least, because it's crazy big!
NOB HILL

On our way to Besaw's we discovered Manor Fine Wares (9907 NW 23rd Ave) and I could have happily taken the whole store home with me… such a warm, comfortable space.
NORTH WILLIAMS

Ink & Peat (3808 N.Williams Ave) is just down the street from Tasty n Sons, one of my favorite restaurants in Portland. This lifestyle store is filled with a clever mix of home decor items. You can find everything from Dash & Albert rugs to cookbooks, cards, candles, and so much more goodness. Oh, and it's also a floral shop!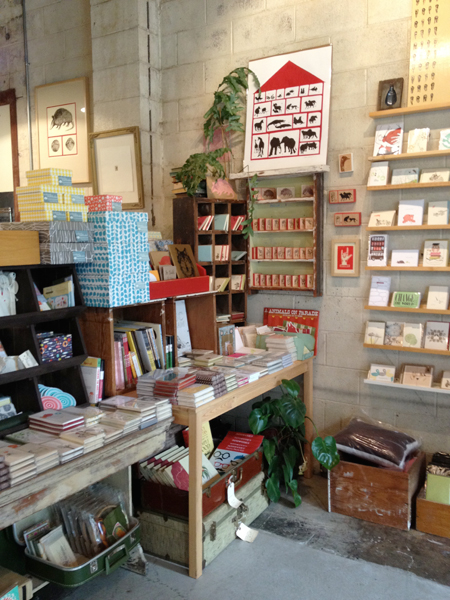 As a graphic designer Lark Press (3901 N.Williams) printing studio and retail space was a must see. I adore letterpress. If you need letterpress cards, posters, calendars, and such, then this is the store for you!
NORTH MISSISSIPPI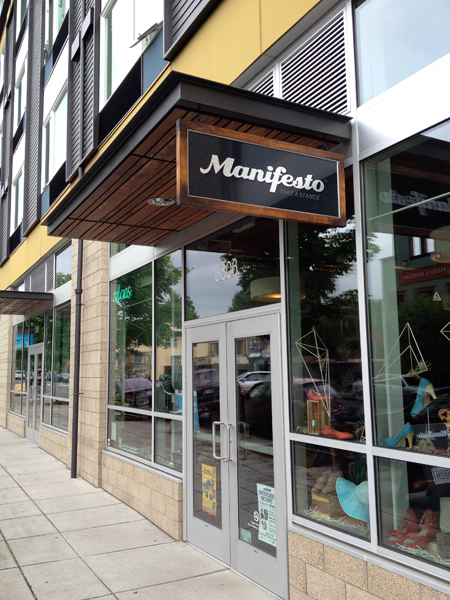 Manifesto (3806 N. Mississippi) is a fabulous shoe store, but, they also have a great selection of locally made jewellery, Orla Kiely bags, and more. I discovered my Minoux necklace here.
PEARL DISTRICT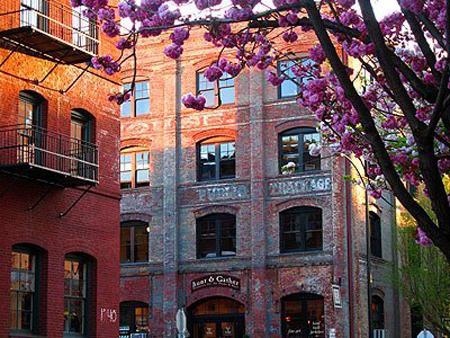 Hunt & Gather (1302 NW Hoyt St) carries a wide range of furniture & home decor, and paintings by local artists. I was happy to discover artist Sarah Kemsler's paintings… can't stop thinking about these trees!
Cargo (380 NW 13th Ave) is an overwhelming experience of imported furniture, one of a kind wonders, flea market finds. I found a great old map here.
Lizard Lounge (1320 NW Irving St) This store was full of so many great brands of clothes and shoes for men & women. Cool kids shop here.
HAWTHORNE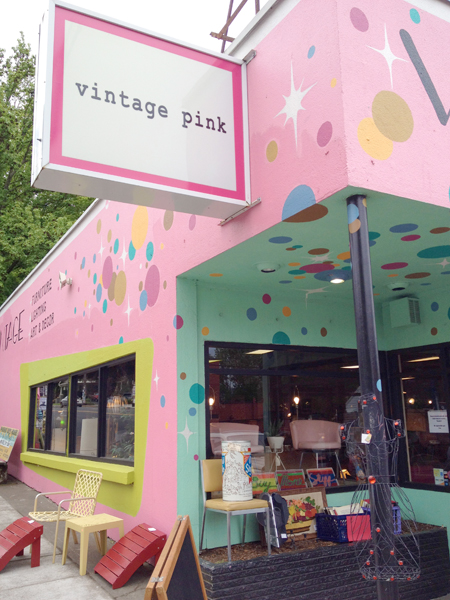 Vintage Pink (2500 SE Hawthorne Blvd) and the many vintage stores along this street are worth a wander, but it's not as tempting to buy when there's a flight home to pack for.
If the rain had let up we would have hit more in this neighborhood. Elsa + Sam, and Imelda's & Louie's Shoes were on our list of stores to visit.
So, to all you Portland locals, have I missed any of your favorites? Let me know if I have so I can search them out next time I'm in Portland!