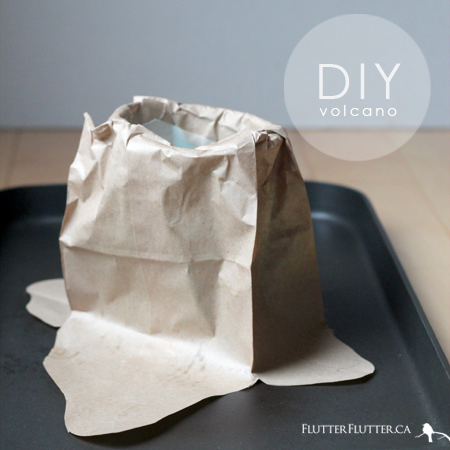 I like projects that are simple and easy to prepare. In my opinion, the set up should not take all day if the enjoyment only lasts ten minutes. This is the easiest volcano you can make, believe me! And kids of all ages like to see things explode! All you need are the following:
WHAT YOU WILL NEED:
1. A tray, or dish, that is large enough to catch all the "lava" that will come out!  2. 1 tablespoon baking soda  3. Red food coloring  4. A can, or plastic cup  5. Paper bag  6. Vinegar
DIRECTIONS:
1. Cut halfway up all four sides of the paper bag.
2. Put the paper bag upside down over top of the can or cup.
3. Tear a hole in the top of the bag, above the opening to the cup.
4. Push back the torn edges and tape to the inside of the opening.
5. Fill the cup 3/4 full of the vinegar.
6. Add in a couple drops of food coloring.
7. Have the kids decorate the tray for full effect.
8. Finally, add in the baking soda and watch it go! You can add more baking soda and vinegar to keep the "lava", and the fun, flowing.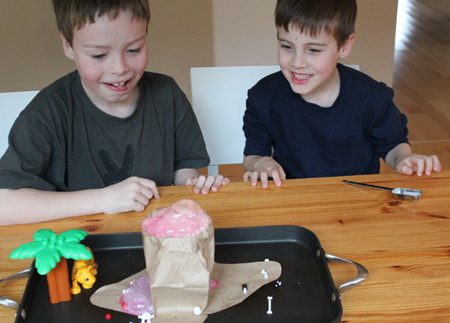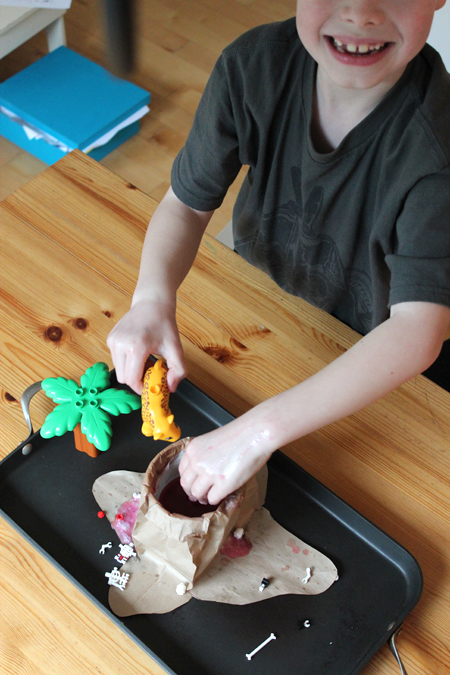 As you can tell from the smiles this activity was a hit! (My oldest is fishing out the Lego Ninjago skeletons that he'd thrown into the volcano as it was exploding… yes, boys will be boys!) I'd definitely do it again!
I hope the Spring Break DIY's this week help to make any rainy days a lot more fun! I know I'm having fun making them. And there are more to come…!