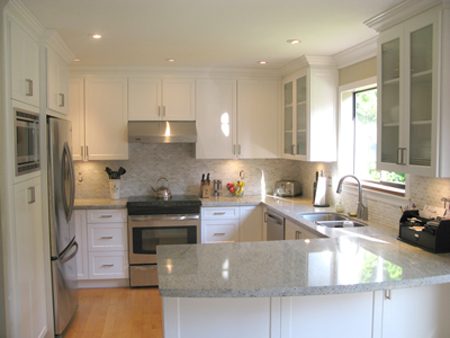 I thought that I'd do a follow up post about organization. I'm hearing lots of people planning kitchen reno's, so I thought that this time I'd focus there.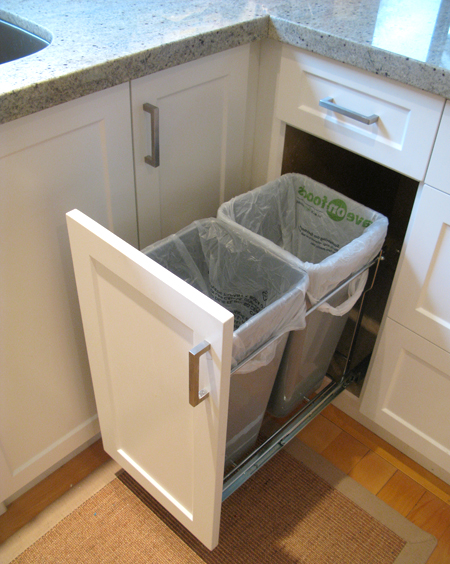 My first suggestion is to find room for a pull out garbage. Even if you only have a narrow space available it can still work. When we were in the planning stages, my friend Jenny from Oakville looked over our kitchen design and found a way to squeeze one in. Yay!  It's one of my favorite things!! Instead of one garbage can, I opted for two small containers… one for recycling items, one for garbage waste. They are small, so the garbage never gets around to being too smelly before it needs to go out!
If you have a peninsula in your kitchen, and have three corners to play with, then I have a suggestion for you. Don't make all of them into corner cabinets! I sectioned the exterior of our peninsula into three even panels, and had one of them open to access four sliding shelves. LOVE the shelves! I find myself in the kitchen a LOT – it's the center of activity around here – so most of the time my laptop sits on the kitchen counter. When I need to print something out I just slide out the top shelf to access my printer and paper, etc. The rest of the shelves have shallow baskets to organize phone chargers, place mats, etc.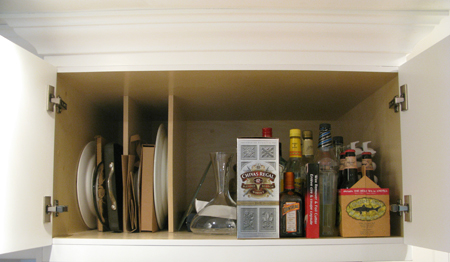 This shot may not look like much, but pay close attention! This is the cabinet above the fridge. Do you see those two vertical dividers? Because this cabinet is usually deeper and taller than any of the others it is the perfect place to store large platters, griddles, liquor, etc. I LOVE having them stored vertically. They slide out so easily when needed!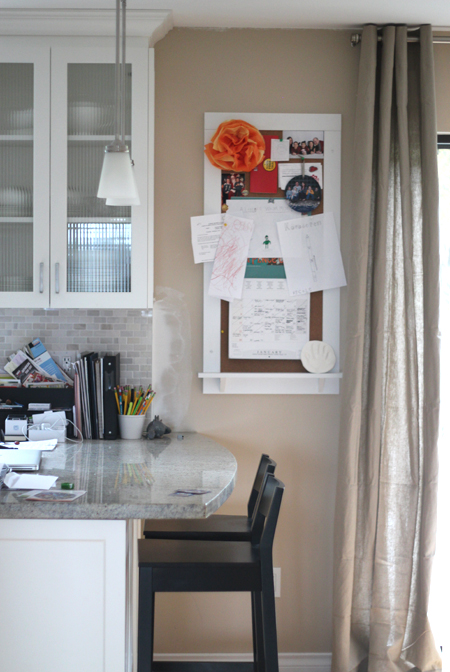 My final must-have in the kitchen area – a bulletin board! At our house it's always loaded up with school notices, kids artwork, and the calendar. Super handy! Oh, just ignore the mud that still remains from tiling the back splash. And the paper bonanza going on… focus instead on the new West Elm drapes that we installed in the dark!
If you're planning your dream kitchen, or just trying to retrofit to make better use of the space, I hope this helps! Now go conquer your kitchens!!