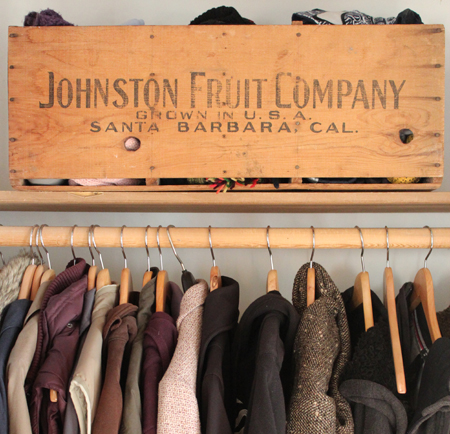 Does anyone else feel the urge to organize? I sure do! My dining room table is a dumping ground for any item without a home. So, my goal this year is to find a home for everything. Things won't be in their proper place all the time, because with kids that is unrealistic. Heck, for ME it's unrealistic! But, I'm determined to make use of every inch of this house!
This antique fruit crate is a great addition above the coat rack in the entryway closet. It's divided into three sections, so gloves, hats, and scarves all have their own spots. And, not having to hunt for a rogue glove among the scarves saves time when we're trying to run out the door.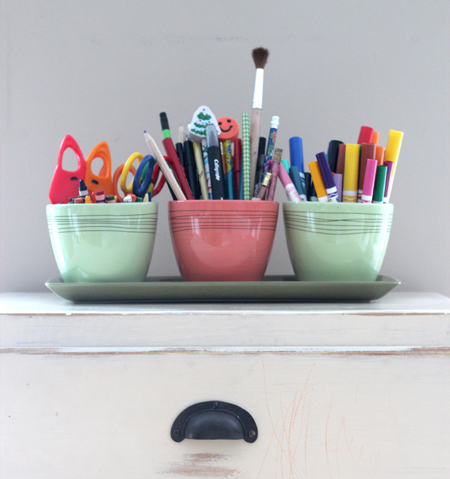 Herb pots play double duty as art supply storage next to the kitchen table. The kids take whichever pot they need to the table, and put it back into the empty spot on the tray when they're done with it. Easy!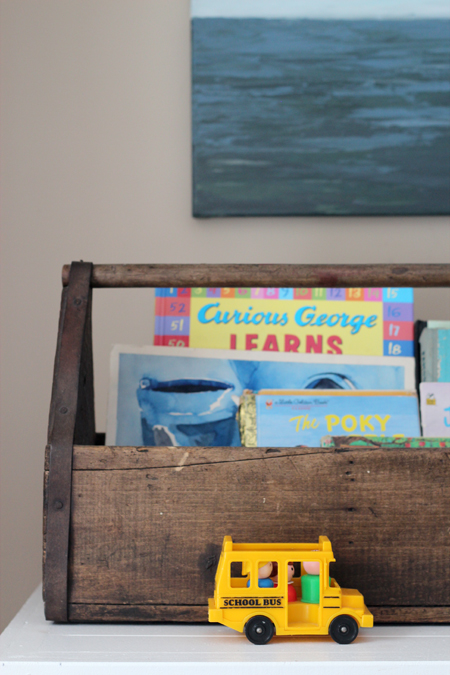 With kids comes a lot more books, which I love! But finding homes for all of them where they will still be seen is not always easy. I bought this antique tool box to store some of those books in our family room.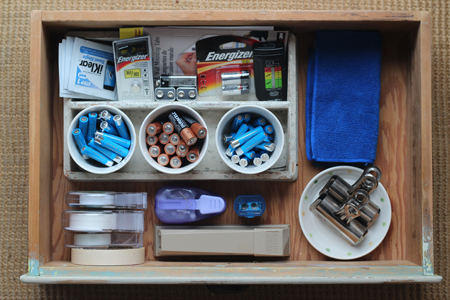 And last, but not least, this is my favorite drawer in our house right now. With the help of Japanese cups and saucers from this fabulous store, and a vintage cutlery holder, I've managed to put all the many batteries, tapes, screen cleaners, etc into one organized little spot!
How about you? Are you getting organized too? I'd love to hear if you have any tricks to staying organized!!
PS – I'm linking up to Cottage & Vine's "Get It Together" Party!

Photo Credits: Rosa Pearson @ FlutterFlutter