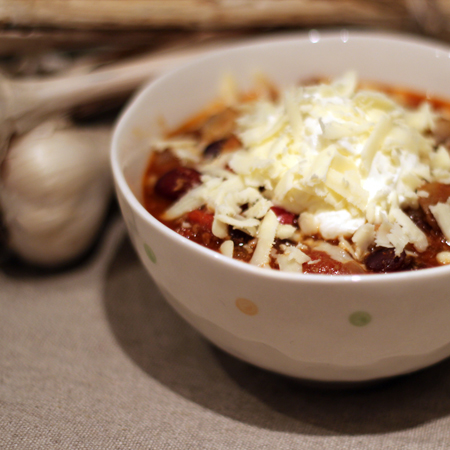 I am trying to become more organized with meal planning, because currently I'm more of a "what's in the fridge that I can make a meal out of" kind of girl. Don't get me wrong, I throw together healthy, yummy food most of the time, but it's always a race to the finish kind of event. Planning meals for the week, and shopping for all the ingredients on the weekend is not a new concept, I know, but it is to this house! The idea that I won't be running out every day for random forgotten ingredients is very exciting. Ideally I'll spend less time thinking about meals altogether!!
This blog won't become a food journal; but, as meals become more intentional, I may throw some favorites your way… such as tonight's amazing chili. Oh my!!
INGREDIENTS:
1.5lbs ground beef
1 large onion, diced
4 cloves garlic, minced
3 red peppers, chopped
3 cups mushrooms, chopped
1 28oz can diced tomatoes
1 5.5oz can tomato paste
1 cup beef broth
1 tsp each: chili powder, oregano, coriander
2 Tbsp cumin
1 Tbsp each: cocoa powder, brown sugar
1 14oz can each: kidney beans, black beans, chick peas
Saute onion and garlic in olive oil until onion softens. Add ground beef, and cook until no longer pink. Add everything except the beans and simmer for 1 hour or more. Add beans, and simmer for another ten minutes. Serve and enjoy, with sour cream and grated cheese of course!
Recipe & Photo Credits: Rosa Pearson