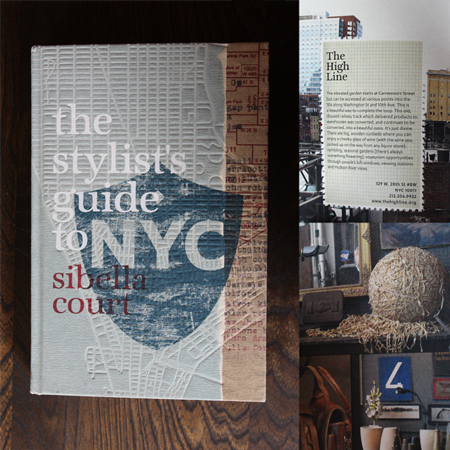 I just got back from New York early this morning, and I have so much fun stuff to share with you! Us ladies had a great time in NYC!!
Before I share about our trip, I owe author & stylist Sibella Court a huge thank you! Knowing that I was headed to New York, I ordered The Stylists Guide to NYC as soon as I heard about it, and devoured it cover to cover. I knew that I was in good hands when I read that Paula Rubenstein was her favourite store, because it was my top find the last time I was in NYC. The graphic designer in me appreciates the thick, toothy paper, and beautiful photography throughout the book. The tourist in me loves the ultra-cool map that came enclosed in the book, so much better than the ugly alternatives available in the tourist shops, taking up permanent residence in my bag during the trip. And, while shopping in Anthropologie, (avoiding one of many insane rain storms) I noticed that it's now for sale there as well! I think there should be books like this written for every major city!
Have you seen this book? Do you already have a copy? If you're planning a trip to New York, or just want to be inspired by the beautiful and curious, you should definitely pick one up!