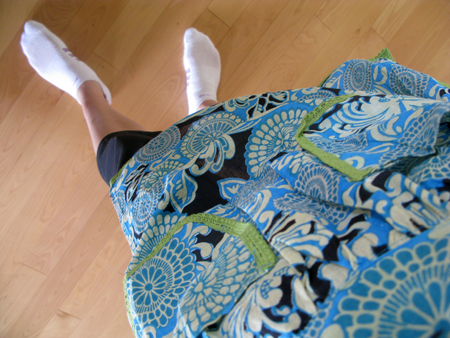 Barbara, over at hodge:podge passed on the Versatile Blogger Award to me! You'll want to check out her inspiring blog. Barbara is also one of the amazing woman behind Canadian Design & Lifestyle Bloggers West. Looking forward to meeting them all in person next week! If you're a westcoast blogger, you can join too! Thanks Barbara!
Part of the deal is that I'm supposed to tell you seven things about myself… so here goes:
1. I have BIG feet. Size 11.5A shoes. Try shopping for those! The only way I can find shoes… Winners, Ingledews Outlet, and cross border shopping at Nordstrom Rack. Do you like how my awesome new apron distracts you from the huge feet below?
2. I have faith that life has a purpose, and that there is always hope.
3. I've been married for 13 fabulous years and counting… I got married at 21! If you're keen to know how old I am, here's the part where you can do some math… ; )
4. Tofino is my one of my favorite places on earth. Right up there with France. I learned to surf in Tofino. Can't wait to go back this summer!
5. Twitter. For the longest time I didn't get it. Now I'm tweeting. And I get it. If you are too, come find me! @flutterflutters (note the s on the end)
6. Pinterest is another thing I didn't think I had time for… hahahahaha! Ya, I'm really happy I got over that! You really must join me there… : )
7. And last but not least, today is my BIRTHDAY! I got woken up by the boys as they jumped up and down saying "Present Time Mommy, present time!!" I'm a pretty lucky lady.
Passing on the award to: So Much to Love, Little Pin Cushion Studio, Walking the Rocks, Sadie + Stella, Stellacake.
Thanks for visiting me here! Your comments make my day!!