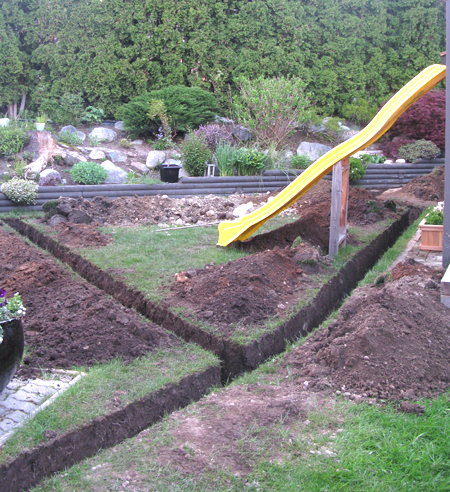 This is how the backyard looked at the end of last weekend. We've had drainage problems since we moved in, thanks to the clay-based soil, but we met with a landscaper last year who explained how to fix the problem. Just look at this perfect trench my man dug! 12″ wide, 16″ deep all the way. The graphic designer in me loves that he's made a perfect y shape. And that's only one section – he's dug around the entire perimeter of the yard! Go Jason!
So, while Jason and the boys are hard at work cleaning up that mess, I'll be working hard at others things… such as eating, chatting, and shopping! Tomorrow is the first time I'll be meeting up with the Canadian Westcoast Design & Lifestyle Bloggers!! I'm so excited to meet everyone! I'm sure I'll have some pictures to share!
Have a great weekend!!