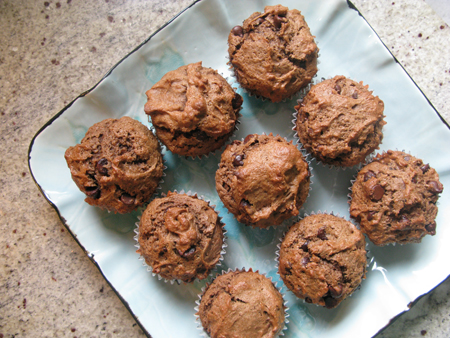 Time to put my one of my birthday presents to good use! This recipe makes the best ever gluten free chocolate chip muffins! For those of you that are gluten free, enjoy!
Dry Ingredients:
I combined the following to add up to 1 3/4 cups GF Flour:
1/4 Cup Potato Starch
1/4 Cup Brown Rice Flour
1/4 Cup White Rice Flour
2/3 Cup Sorghum Flour
1/3 Cup Tapioca Flour
I then added the following:
2 tsp baking powder
1/2 tsp baking soda
1 1/2 tsp xanthan gum
2 TB organic cocoa powder
3/4 cup white sugar
3/4 cup chocolate chips
Liquid Ingredients:
1 cup milk
1/3 cup + 2TB canola oil
1 egg
1 tsp vanilla extract
Directions: Preheat the oven to 400 degrees F. Mix all of the dry ingredients in a large bowl. Pour all of the liquid ingredients into a measuring jug. Mix the dry and wet ingredients together. Spoon into the prepared muffin tin. Sprinkle some extra chocolate chips on top and then bake for 20 minutes or until the muffins are dark, risen and springy.
Makes 12 Mmmmuffins 🙂
Photo Credit: Rosa Pearson Design for Flutter Flutter