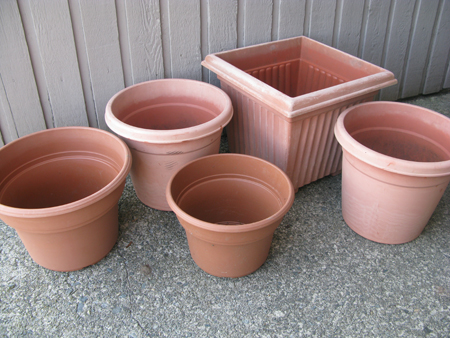 Last weekend I came home with an assortment of old plastic pots that my in laws had stored behind their shed for the last couple of years, in various shades of faded terracotta. We needed to buy some more pots this year anyway, so I thought I'd give these a second chance at life!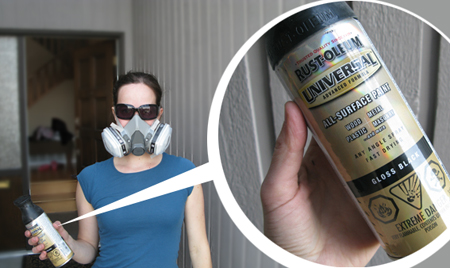 Like my new spray painting mask? The idea of toxic fumes kind of freaks me out! All of my spray painting projects up until now have been pretty small, so I've always just sprayed and ran… (tell me I'm not the only one!) but that would've taken WAY too long for this project. Do you guys use masks? Or is there a trick that I'm missing so I don't get engulfed by the spray!!?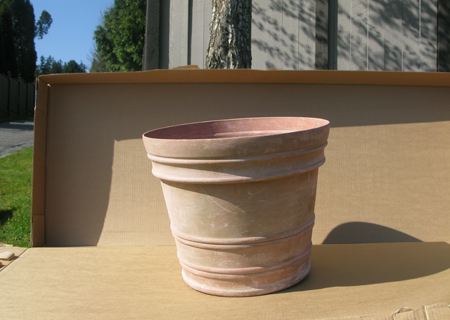 If you try this at home, make sure that you buy spray paint that works on plastics, such as Rustoleum's Universal. And, I found that if the pot's finish is really beat up, like the one above, the spray paint just gets absorbed into the plastic instead of covering the surface nicely. Sad, because I think the style of this pot would have looked fabulous in a glossy black!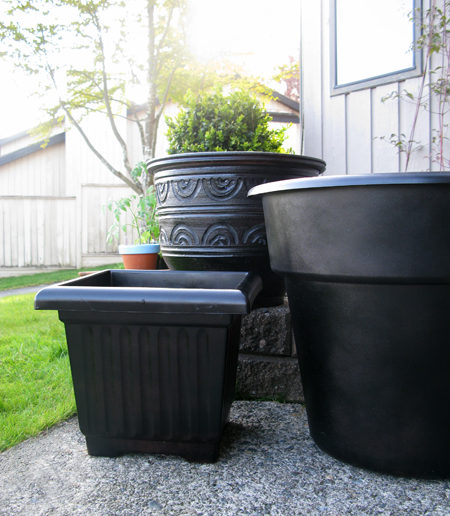 I envisioned a renewal of sorts with a heavy dose of glossy black spray paint, and I'm pretty happy with the results! I got almost five pots done before I ran out of one can of spray paint. (TIP: Ikea boxes came in handy for overspray!)
PS – It seems great minds think alike, so if you're looking for more spray paint inspiration, go visit Carol at The Design Pages. Her urns are SUPER shiny, so I'll have to find out what her secret spray paint is! Maybe mine will be getting another coat… ; )
Photo Credits: Rosa Pearson Design