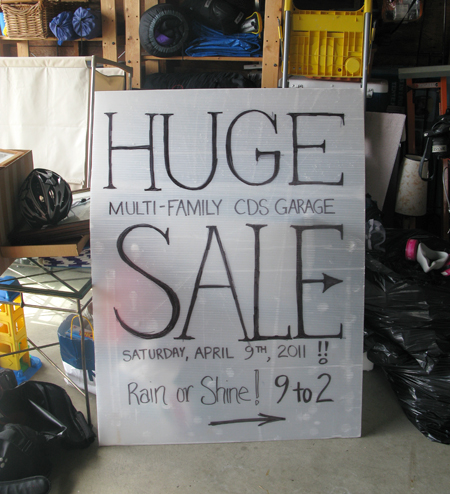 It's been a busy week around here! There is a City Wide Garage Sale that happens in our neighborhood once a year, and Saturday is that day! My neighbor, Jamie, and I decided to rally the neighbors and get a block wide garage sale set up in the middle of our cul de sac. We've got a party tent to set up, so even if it's raining we can still go ahead. I made this 5′ tall sign out of plastic corrugate that was leftover from installing the kitchen appliances… I don't think anyone will miss the sign as they drive by, do you? ; )
My favorite part of the plan is that all the MEN on our street are going to take charge of the sale for an hour each, so if you pop by and don't see me, rest assured I'm out hunting for deals myself!
Happy Friday everyone! Enjoy your weekend!!
PS – I've made some progress on the Master Bedroom lately. I'm so excited to share that with you next week!