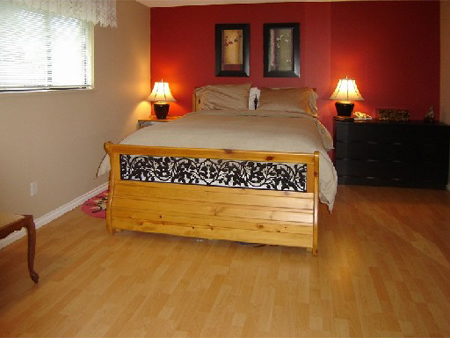 This is the listing picture that shows what our master bedroom looked like when the previous owners lived here. Not horrible, but the cheap laminate and overpowering red wall really need to go… or at least be covered up with some paint and a rug! I discovered new bedding for our master bedroom over the weekend, and so this project now ranks higher than the mud room. At long last I found THE bedding that I've been waiting for… to replace the mistake bedding that could not be returned. Let the games begin!
My friend Heather and I attacked a bunch of the newer stores and outlets near her on Friday night, and it is always trouble/fabulous when we shop together!! I can't wait to lay it out and do the big reveal for you all! I've been putting off showing any before pictures of rooms in my house that I haven't finished yet… the horror of ugly, unfinished rooms hanging out there for the world to see will take some getting used to. So here are some really bad shots (as before pictures should be) of the current issues. (Please don't judge!!) We've really ignored this room for so long it's embarrassing.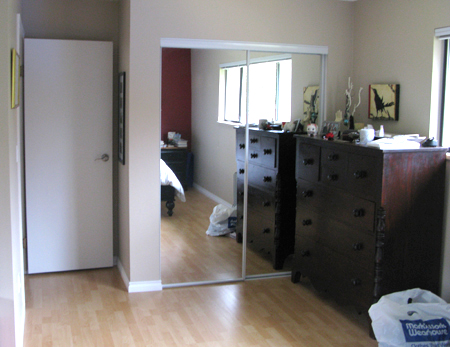 This shows one of the major issues that we currently have. Our enormous antique dresser squished between the window and the closet. Looks awful, I know! And there is room to move it, but the only problem is that the previous owners left these enormous mirrored wardrobes in that space. I think the previous owners REALLY liked mirrors. Time to Craigslist those babies!!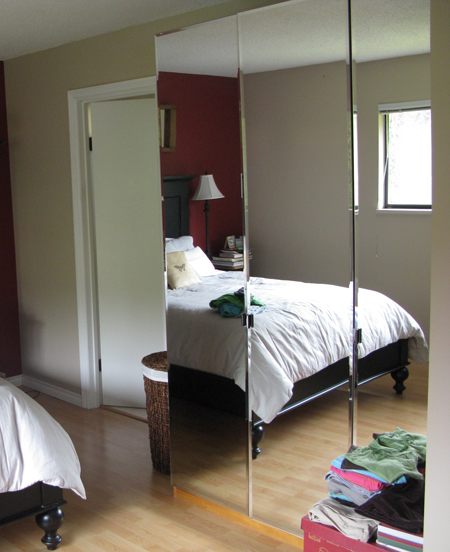 This is our list of to-do's:
New Bedding (check!)
New Accent Pillow (check!)
Paint over the red wall (check!)
Sell mirrored wardrobes on Craigslist
Find Curtains
New bedside lamps
New wooden blinds
New dresser
Center bed on the wall
Buy a rug, for until we carpet the upstairs
I was hoping to have it all done this week… not likely, but worth a try. Wish me luck!!