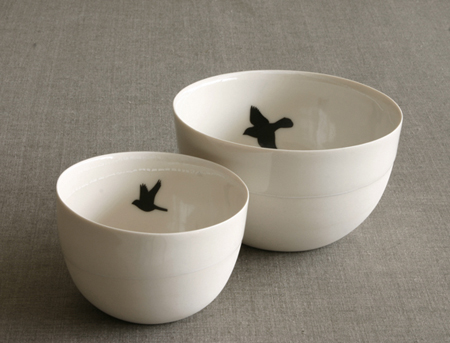 Image: Coe & Waito
What is it about birds? I know friends that have been "banned" from buying another item with birds on it – you know who you are! I have to admit to a long term case of bird crazy myself. Ever since I saw these beautiful, simple bowls in House & Home Magazine years ago… I was hooked.
Local artist Arleigh Wood is one of my personal faves for using bird imagery in her art. She always creates such beautiful paintings.
Image: Arleigh Wood, "Placing Leaves on Trees"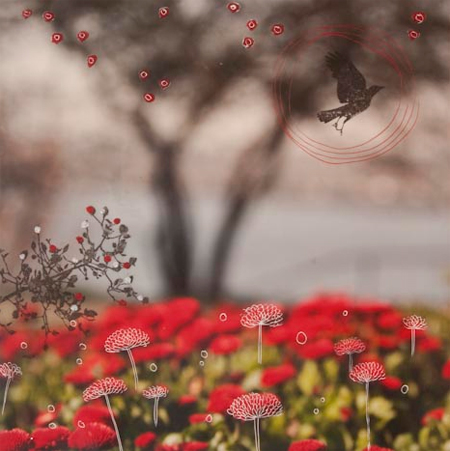 Image: Arleigh Wood, "Cardinal Blossoms"
Local sister design team Kelly and Karen Schmidt make up Double Trouble Design. They are both multi-talented people and so much fun! I bought one of their beautiful clocks for the wall in my studio last year and it really brightens up a gloomy gray Vancouver day. (The bird image on the right, with the blue colour of the other image is the combo I chose. They have so many to choose from – not just birds!)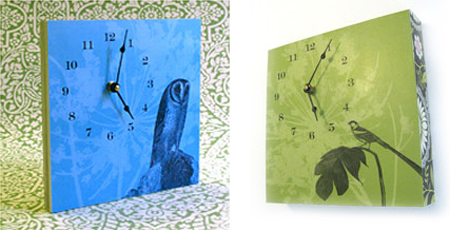 You can find them all selling their wares at Shiny Fuzzy Muddy this weekend. I'll be there checking it out too!
How about you? Any animal obsessions?
I'll be having a bird-themed giveaway tomorrow, so check back soon!